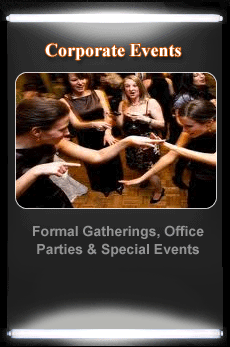 Corporate Events, Office Parties & More

---

Corporate events can leave a powerful and lasting impression by offering an immediate "live" experience. DJ Big Andy can help you build on your ideas or lead you through the process from beginning to end. Whether you are hosting a large event for thousands or an intimate VIP gathering, we will deliver a creative and entertaining experience.
In today's competitive work environment, corporations need to do all they can to reinforce their employee's choice to work where they are rewarded and appreciated. For corporations who want to give their employees the ultimate memorable experience, we can help you deliver! Let us share our ideas for rewarding your employees with a holiday party, award dinner or banquet they'll always remember.